16th KASC Executive Committee
---
Who are the EC members?
Since it first launched in 2008, the Korea-America Student Conference has been planned and implemented by students from the United States and South Korea. The 16th KASC Executive Committee (EC) is a group of elected students who create and implement the Conference and comprises of an equal number of students representing the US and South Korea. EC elections occur at the end of each summer's Conference, during which both American and Korean Delegates are nominated to run for one of ten positions and are elected by their peers.
Each year, American and Korean EC members collaborate across the Pacific to plan the Conference. Each part of the Conference is student-led, from Roundtables to daily programming, contacting lecturers, and working with host universities to organize the sites of the Conference. During the Conference, EC members guide the student Delegation as onsite coordinators and Roundtable leaders.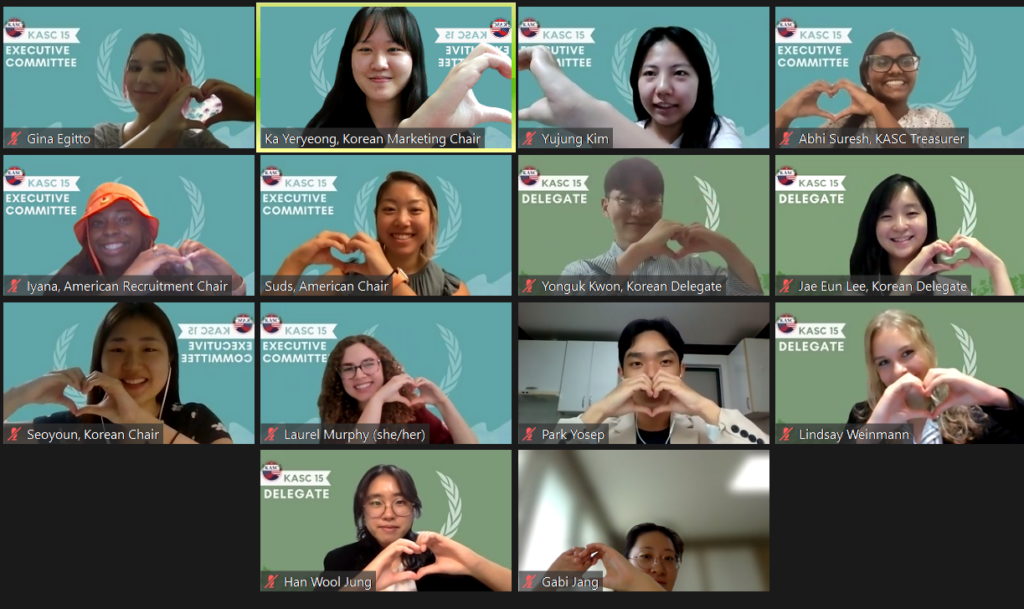 ---


---
American Executive Committee
Lindsay Weinmann / American Chair
Hi, everyone! 안녕하세요? My name is Lindsay Weinmann (she/her), and I am excited to serve as American Chair for KASC 16! My hometown is Athens, Georgia which is where I'm currently studying international affairs and Asian languages and literature (on the Korean track) as a second year at the University of Georgia. Go Dawgs! As of now, I am still trying to decide on a career path but know that I want to help people and am interested in education, as well as community planning and development. By participating as a delegate in KASC 15, I had more time to reflect on myself and grow as an individual by considering new perspectives and avenues in life such as these. I am rooting for us all as we discover more about ourselves and ways we can make a positive impact on those around us!
Moreover, from the time I was young, I have always enjoyed learning about different cultures and how they shape the lives of people. With this in mind, I am appreciative of KASC for continuously providing an open space for learning with the values of cross-cultural communication, understanding, and respect (to name a few) at its core. Participating as a delegate expanded my academic knowledge, deepend my cultural understanding, and built on my professional experiences. However, it also uniquely gave way to friendships that I could have otherwise not imagined possible. I am beyond ready to meet my global friends (in-person!), including our lovely KASC 16 delegates!
I am grateful for ISC's support throughout this journey and could not have asked for more hardworking, intelligent, and kind EC team members. Thank you all, and I urge any newcomers who are interested in KASC to apply for our conference!
Hanwool Jung / American Treasurer & Recruitment Chair
Hi everyone! My name is Han Wool Jung and I am the American Marketing Chair for KASC 16. I lived my life in various countries. I was raised in Korea and moved to Indonesia when I was 10 years old. I graduated high school from an international school and came to the U.S in 2013 for B.A in international political science at Pennsylvania State University. I have graduated from my first M.A in Government at Georgetown University and now I am enrolled for another M.A program in Information Systems in Engineering and Management at Harrisburg University of Technology and Science to extend my IT skills.
I have always been interested in politics as you can see from my majors, especially in international relations. My region of interests are the Korean Peninsula, the United States, and Indonesia. I've focused on studying their bilateral and trilateral relations in terms of political economy and security during my M.A at Georgetown University. For my future career, I am hoping to work as a researcher in a think tank in Washington D.C and sharpen my analytical skills and deepen my knowledge in this field.
Participating in KASC 15 was truly worth it. I was able to widen my perspectives on topics we have discussed and deepened my insights especially on Korean-American politics and history through amazing speakers. I wish to emphasize that through this conference, all participants have the opportunity to hone their professional skills as the 15 KASC participants and I did, and also engage with incredible speakers.
---
Korean Executive Committee
Yonguk Kwon / Korean Chair
Hello! My name is Yong-Uk Kwon and I'll be serving as the Korean Chair for KASC 16! I currently attend the University of Seoul where I am majoring in Business Administration, with a double emphasis in Legal norms and Institutions. I'm from Daegu but am currently living in Seoul. I became interested in environmental, nature, and climate issues after learning that the COVID-19 pandemic is related to the climate crisis. When I was doing military service as an auxiliary police, one of my professors recommended KASC and I decided to apply because I wanted to discuss the large-scale solution of the climate crisis with future global leaders. Therefore, I took a leave of absence to get a letter of recommendation before I was discharged and met many professors. That was how much KASC seemed to be a valuable program for me and now that I've finished KASC 15, that thought hasn't changed.
I have two dreams. First is to become an international lawyer and second is getting experience of working in International Organizations, especially the United Nations. In order to achieve that, I have to improve my multicultural teamwork skills, English skills, diversity of ideas, communication skills, and much more. I believe that KASC will serve as a great network and community to share future global leaders' academic knowledge and different cultures. For these reasons, I am eager to work as part of the KASC 16 Executive Committee and looking forward to meeting with passionate delegates. See you soon!
Yosep Park / Korean Treasurer & Marketing Chair
Hi! My name is Yosep Park and I am in charge of the Marketing Chair in KASC 16. I grew up in Suwon which is rich in cultural heritage and historical sites. Currently, I am double majoring in English Literature and International Relations at Soongsil University.
Ever since I entered the university, I always had difficulty finding my interest. The only passion I could work up was to improve my English level. Joining KASC 15 was also because I thought it would help step up my English. However, it turned out it was more than that. As expected, taking part in KASC 15 as a Korean delegate really helped me to continue improving my bilingual skills and multicultural communication goals. On top of that, after learning about many different values of life from lots of talented speakers and discussing bilateral issues of both Korea and the US, I was able to excavate my real passion and sense of direction.
Specifically speaking, I learned how to work in international institutions, take care of my own mentality, and deeply look into my strengths and weaknesses in order to apply them in real life and grow into a better person. After this, I realized that I wanted to work in the field of international development. The way I had to work with delegates beyond latitude and communicate in English helped me work up more attention toward international relations.
KASC 16 can give you a lot more than you might expect in its variety of insights. If you are interested in international matters but still can't find the place where you would like to be, then this conference is the one for you. It will help you look more into yourself, just as it did for me.
Hope to see you there!