About
Requesting funding for a student conference involves presenting a compelling case for why financial support is needed and how it will benefit both you and the sponsoring organization. ISC is also happy to provide a letter of support for your application. Please contact us at info@iscdc.org to request a letter.
Here is a step-by-step guide to help you in the process:
Identify Potential Sponsors:

Look for organizations, businesses, academic departments, or local community groups that might have an interest in supporting student development or the specific theme of the conference.

Create a Budget:

Outline all the expenses associated with attending the conference, including registration fees, travel costs, accommodation, meals, and any other related expenses. Be specific and realistic in estimating costs.

Research Funding Opportunities:

Check with your university and look online to identify opportunities for funding.

Write a Proposal:

Craft a clear and concise proposal that includes the following elements:

Introduction: Briefly introduce yourself, your academic background, and your interest in the conference.
Conference Details: Provide information about the conference, including its theme, location, and significance.
Benefits: Clearly outline how attending the conference will benefit you, your academic pursuits, and potentially the sponsoring organization.
Budget Breakdown: Present a detailed budget breakdown, specifying how much funding you are requesting and how it will be allocated.
Sponsor Recognition: Explain how the sponsor will be recognized for their support, whether through acknowledgment in presentations, promotional materials, or other means.

Highlight Personal and Professional Development:

Emphasize how attending the conference aligns with your academic and professional goals. Explain how the experience will contribute to your education and future career.

Connect with the Sponsor:

If possible, establish a personal connection with the potential sponsor. Attend any networking events they host, and reach out to them through email or social media.

Follow Application Instructions:

Carefully follow any instructions provided by the sponsor regarding the application process. This includes submitting the proposal by the specified deadline and including any required documentation.

Show Gratitude:

If you receive funding, express your gratitude promptly. Keep the sponsor informed about your conference experience, and follow up with a thank-you letter or email after the event.

Consider Alternative Funding Sources:

If you are unsuccessful with one sponsor, don't be discouraged. Explore other potential funding sources and submit additional applications.
Remember to tailor your proposal to the specific requirements of each potential sponsor and to communicate the unique value you bring as a student attendee and the benefits of participating the program. Good luck!
Universities
Many students are able to secure funding from their universities, especially from Asian Studies, Japan Studies, or International/Global Affairs departments. Below are some of the universities that have provided scholarships for their students. This is a partial list for planning purposes and there is no guarantee that all of these universities would still have scholarships available.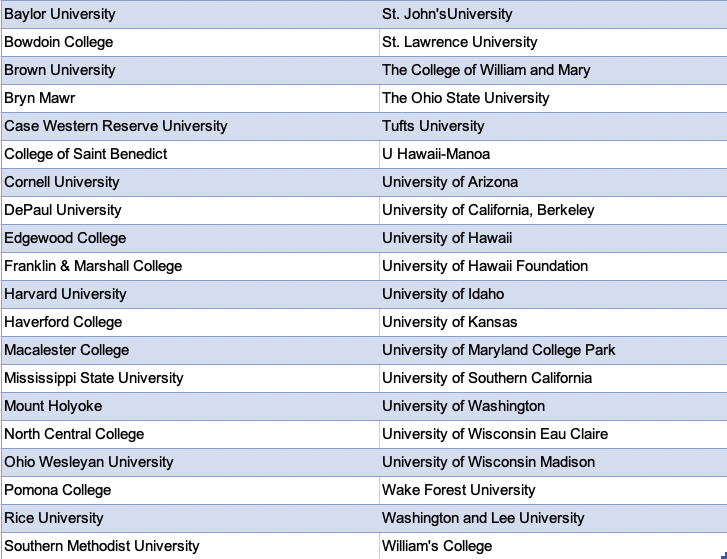 How to Request Funding
Example Funding Request Letter