The 9th Korea-America Student Conference
Applications are being accepted for Korean applicants!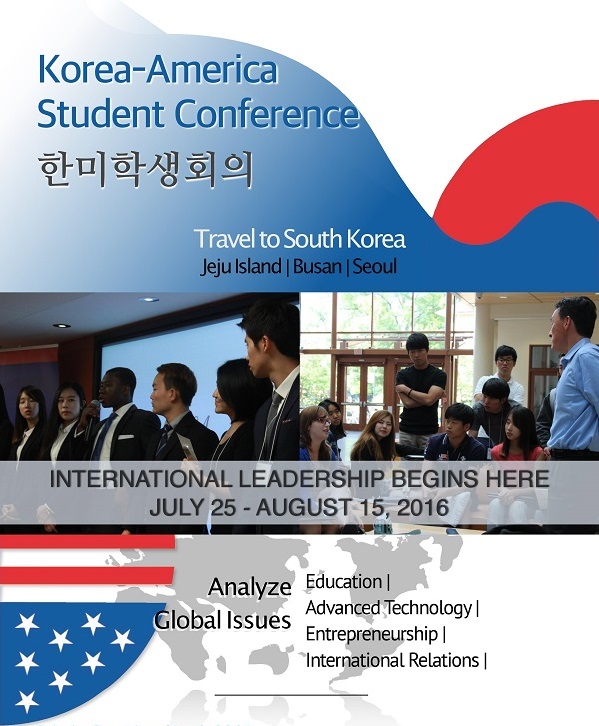 The 9th KASC will be held in South Korea from July 25 - August 15, 2016. A delegation of 34 students will be competitively selected to represent the U.S. and Korea in the conference (17 American students, and 17 Korean students). Delegates will travel to three cities in Korea: Jeju Island, Busan, and Seoul , and engage in academic, cultural, and professional exchange, including participating in lectures, seminars, networking events, cultural activities, and community service. Delegates will discuss, analyze, and co-create solutions to four pressing bilateral and global topics throughout the month, and will present their joint solutions to a panel of experts and the general public at the conclusion of the conference. KASC seeks a diverse delegation, and all majors are welcome to apply. No prior experience with Korea or Korean necessary.
Final Deadline: May 1, 2016
*We are currently accepting only Korean applicants. Admissions are rolling. Applications for American delegation has been closed.
Participation Fee: $2150 (Regular Deadline)
Applicants who apply for the priority deadline will receive a reduced participation fee, early notification about their acceptance to the conference, and priority consideration for roundtable topics. The participation fee covers all expenses while on the conference, including domestic transportation between sites, transportation within each site, lodging, food, networking activities, cultural activities and other conference events. Delegates are responsible for their transportation to the first site of the conference, and back from the last site of the conference. If you have any questions about the conference, feel free to email Kianna McKenzie, American Recruitment Chair (American delegates) and Emilie Kim, Korean Recruitment Chair (Korean delegates). You can also contact the ISC office by phone at 202-289-9088.