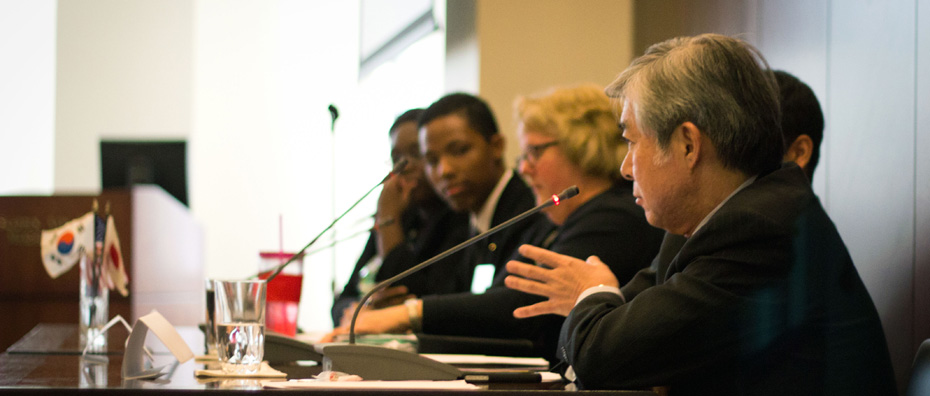 ISC's Second Annual JASC-KASC
Trilateral Symposium
On January, 30, 2014, JASC and KASC student leaders hosted a discussion on topics pertinent to regional historical tension, regional security, economy, and leadership. The symposium featured two panels:
1. Historical Controversies and Security (9:00AM)
Panel Speakers: Victor Cha and Mike Green

The panel on historical controversies and security examined the U.S., Japan, and South Korea's shared interest in a peaceful Northeast Asia with a focus on how history has influenced current relations and future prospects of cooperation. Panelists addressed historical occurrences and their present implications including the Dokdo/Takeshima island dispute, the treatment of "comfort women" by the Japanese government, and visits by Japanese dignitaries to the controversial Yasukuni Shrine. They also analyzed how political interests have influenced differing understandings of history, discussed the benefits of a mutual understanding of historical events, and addressed the role the U.S. plays in these issues.
2. Women in Society (10:45AM)
Panel Speakers: Chiyo Kobayashi and Florence Lee
The panel on women in society examined the role females play in the social, political, and economic sectors of the U.S., Japan, and South Korea, three countries that still have large steps to take in terms of securing gender equality. Panelists addressed issues related to women in society including the proposition of womenomics in Japan, the role of Confucianism in defining gender roles in Northeast Asia, and the hyper-sexualization of women in mass media in all three countries. They discussed how the three nations can cooperate in the construction of a societal model free of a gender gap.

You can read the entire symposium report here