Emily Krmpotich
13th KASC American Chair
California State University at Sacramento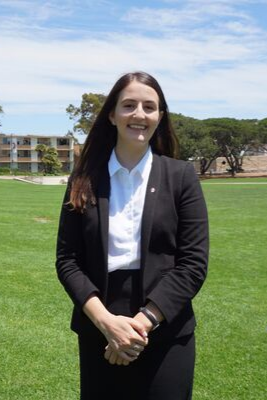 Hello everyone! My name is Emily Krmpotich and I am very excited and honored to be the American chair for the thirteenth Korea-America Student Conference. I am originally from Casper, Wyoming where I was born and raised until moving to Washington, D.C, the nation's capital, to attend college. I graduated in 2019 with a degree in psychology from The Catholic University of America. After undergrad, I decided to switch coasts and continue pursuing my education in psychology at California State University at Sacramento where I am currently a first year master's student. In my free time, I like reading historical fiction, listening to music, spending time outdoors, and watching movies (action, horror, and the classic rom-com are my go-to's).
While taking a thought provoking Korean politics course in college, I was introduced to the fascinating history and culture of South Korea. This class peaked my interest in the US-ROK alliance. It was through this class that I learned of KASC and ultimately is why I wanted to participate in the conference.
Through my experience during KASC, I was able to learn from dynamic leaders, engage in unique cross-cultural dialogue, and make lasting friendships. I am beyond thrilled to be able to work with ISC and the rest of the wonderful executive committee to make the 13th KASC as enjoyable and fruitful for you as the 12th KASC was for me!