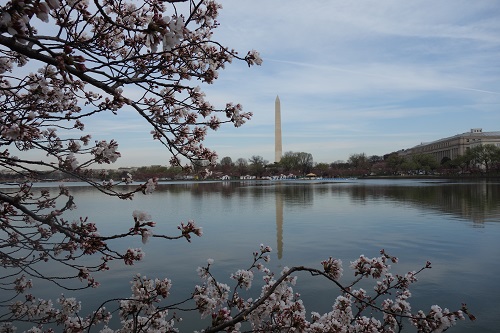 The cherry blossoms in Washington, D.C. are in full bloom now, and the National Cherry Blossom Festival (March 20­ April 17, 2016), a month­-long celebration of spring in the nation's capital, has just begun! International Student Conferences (ISC) staff visited the tidal basin on March 22, 2016 to enjoy the beautiful flowers which have become a hallmark of spring in the DC metro area.
Did you know that the Washington, D.C. cherry trees and Japan-­America Student Conference (JASC) share a mission in common? As many may already know, Washington's renowned sakura trees were a gift of friendship from the city of Tokyo in 1912. Since the initial arrival of the 3,000 trees, every spring, the cherry blossoms have served as an enduring symbol of friendship between the United States and Japan, warming people's hearts and bringing together families, friends, and communities in celebration of Japanese culture and the beginnings of spring.
It is only due to the lasting friendship between the US and Japan that we can continue to enjoy the cherry blossoms today after nearly a century. During World War II, the Cherry Blossom Festival was suspended, and after the Pearl Harbor attack, several trees were cut down in what was believed to be an act of retaliation. However, visitors still flocked to enjoy the blossoms, even during wartime. Over the years, more gifts of trees have been exchanged between the two countries, including the gift of dogwood trees from the US Government to Japan, and additional cherry tree gifts from Japan to the US, reaffirming the friendship bonds between the two countries.
One of the key missions of JASC is to foster lasting friendships between the US and Japan, both at the personal and national level. We hope that our annual conference, just like the Washington, D.C. cherry blossoms, will be a time of year when people from the two countries come together to celebrate the enduring friendship and build new interpersonal connections that will continue throughout their lifetime. We also want JASC to be a signature experience that people working in US­-Japan relations will look back at fondly for years to come as they move forward in their respective careers.