Emily Krmpotich, 2020 - 2021 Intern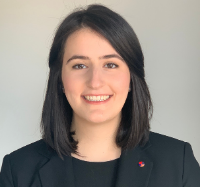 Emily Krmpotich is an intern at International Student Conferences (ISC).
Emily participated in the 12th Korea-America Student Conference (KASC) as an American Delegate, served as the American Chair for the 13th KASC, and is currently acting as an advisor for KASC 14. In 2019, Emily obtained her Bachelor of Arts in Psychology from The Catholic University of America located in Washington, DC. She is currently a second-year graduate student at California State University, Sacramento where she is pursuing her master's degree in general psychology. Emily works as a graduate research assistant in a cultural and community psychology research lab where she conducts research on her interests in cultural, and cross-cultural psychology. Emily is particularly interested in the influence of psychological research on public policy and community mental health initiatives. This interest is ultimately what led her to apply to participate as a Delegate for the 12th Korea-America Student Conference.
Through her experiences as a KASC Delegate and Executive Committee member, Emily has learned the depth of true cultural exchange. Thus, she is happy to be able to continue working with International Student Conferences in an advisor role to help continue the legacy of ISC and it's Korea-America Student Conference. Emily can be contacted at ekrmpotich@iscdc.org.