Minji Kim
12th KASC Treasurer
Jeju National University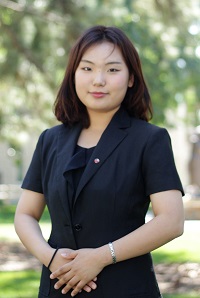 Hello! My name is Minji Kim and I am the Treasurer of the 12th Korea-America Student Conference Executive Committee. I am currently a Junior at Jeju National University, studying Nursing. During my free time, I exercise to cleanse my mind!
KASC was a great opportunity to broaden my views and experience new things. This program strengthened my inner power as well as external power. I could better understand cultural differences and respect for each other. Also I had the opportunity to meet unforgettable people, travel to different places, and experience unique circumstances.
I lived my whole life in Jeju-island. In my home town, I focused on myself and tried to hear my inner voice. On the other hand, KASC makes me focus on the relationship and connection with others. Balancing between inner world and outside made me more mature. As I did, you can also find your own power. I really look forward to meeting you as a KASC 12th delegate!