Damare Baker
12th KASC Recruitment Chair
Georgetown University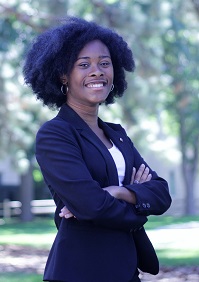 Hi everyone! My name is Damare Baker and I am the Recruitment Chair of the 12th Korea-America Student Conference Executive Committee. I am currently a sophomore at Georgetown University studying Regional Comparative Studies with a focus on East Asia and the United States, along with a minor in Korean.
Like many others, my interest in Korea started off with Korean culture. However, as soon as I learned about the Korean War in high school , my interest expanded into Korean history and politics. When I studied abroad in Seoul and began learning the Korean language the summer before my freshman year of college, I realized I wanted to study Korean history and politics in university.
When I got the email about KASC from my Korean professor, I knew that it was the perfect program for me. Before the 11th KASC, I had only watched videos and listened to professors talk about Korea. KASC gave me the opportunity to learn about Korea from the perspective of people who had lived there or grew up around the culture, which is the best way to learn about a place. I hope that you take this opportunity to expand your perspective on Korea and to give a new perspective on your own culture. I look forward to meeting you all!