Ayoung Kim
12th KASC Chair
Ewha Womans University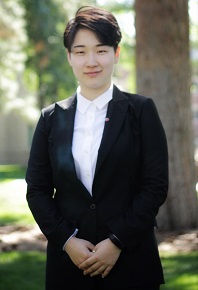 Hello fellow and future KASCers! My name is Ayoung Kim and I am working as the Chair of the 12th Korea-America Student Conference while also currently studying as a full time student in English Literature and Education at Ewha Womans University in Seoul, South Korea. I spent my formative years in Canada, crossed over to South Korea in 5th grade and I've been here ever since.
Between participating in international debate tournaments and spending a semester studying in Germany, traveling, and learning about diverse cultures is a passion that is close to my heart.
I heard about KASC from a friend at Kyushu Debate Open and thought it would be a fun opportunity for academic growth as well as a great excuse to travel. It was only when I embarked on the actual conference that I realized that I stood to gain so much more. Learning about Korean-American relations was possible through the rich program but it was my fellow delegates that taught, inspired, and showed me diverse ways of thinking. Participating in the first two-country model was also an opportunity that allowed both Korean and American delegates to explain what was familiar to them whilst also gaining deeper insight into the other country. Such a dynamic fostered mutual respect, active exchange, and created deeper relationships between the fellow delegates. Even after the conference, KASC continues to positively impact the delegates' lives through the relationships that were made during our time together.
KASC really is like no other experience and for that, I am ecstatic to work towards creating a similar unforgettable experience for the delegates of this year. I look forward to meeting all of you!