Eric Trey Mueller
1st ChASC American Executive Committee Member
Robert M. La Follette School of Public Affairs
University of Wisconsin-Madison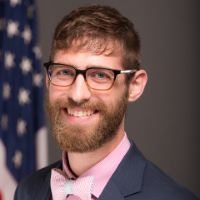 Eric Trey Mueller is a first-year graduate student in the Master of International Public Affairs program at the La Follette School of Public Affairs and will apply for graduate certificates in Community-Engaged Scholarship and Intermediate Technical Japanese. He transferred from Coffeyville Community College in Kansas to the University of Wisconsin-Madison and graduated with a B.A. in Political Science.
Eric studied abroad at Sophia University in Tokyo, Japan as a Boren Scholar and he studied away with the Wisconsin in Washington, D.C. Academic Internship Program as an intern with The Partnership for Public Service, a nonprofit. Eric has participated in the 68th and 69th Japan-America Student Conference as a delegate and as an American Executive Committee member. He recently completed an internship with the International Student Management Office of National Defense University in Washington and currently works as a Project Assistant for the University of Wisconsin System Administration.
Eric is interested in researching public policy related to the return migration of Japanese Brazilians to Japan. He enjoys exploring new cities, nature parks, spicy foods, strategy games, and spending time with his lifetime companion, Keira, an African Grey parrot.