We are excited to share reports on the 68th JASC  written by the newly elected American Chair and Vice Chair of the 69th JASC!
Yuta Baba, Chairman of the 69th JASC American Executive Committee, reflects on how JASC helped him see and experience new aspects of the United States, the U.S.-Japan relationship, and himself. His report focuses on Boston and San Francisco, the opening and closing sites of the 68th JASC.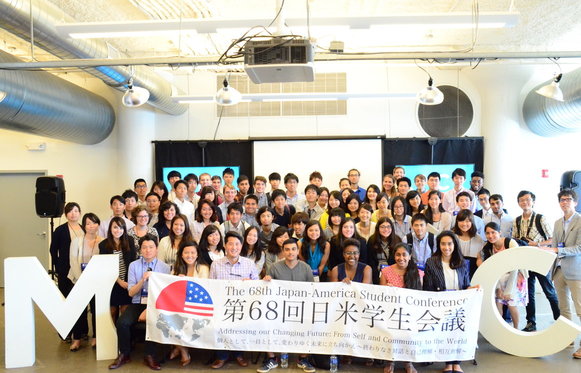 I was both excited and nervous when I landed in Boston, the first site of the 68th JASC. However, my worries quickly wore off as I began meeting my fellow delegates. Although we had just met, everyone was open to sharing their personal opinions and listening to others.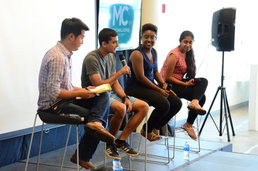 One of the most memorable moments in Boston was the visit to MassChallenge, a global startup accelerator that supports social entrepreneurship. Meeting social entrepreneurs of our age not only inspired us, but also taught us to not fear rejection. These passionate individuals shared their major takeaways, one of which is to always trust yourself and keep moving forward. This is something that applies not only to social entrepreneurship but to our everyday lives.
The visit to MassChallenge also taught me the many facets of Boston. Prior to JASC, I had viewed Boston as a historical city, and was therefore surprised to learn that the city is now hub for entrepreneurship. Seeing this new aspect of Boston, I became very excited to explore other cities as a JASCer.
The final city that we visited in the 68th JASC was San Francisco. The City of  San Francisco was formed in a very different way compared to the other cities we visited, such as Washington, D.C. and Boston. While the houses and buildings in Boston were older, more traditional in style and had more spaces between each other, those in San Francisco were relatively new and were all packed together. Visiting four cities, I was able to see the diversity within the U.S., not only in terms of the themes we explored but also in terms of  the city planning that reflected the characteristics of each city.
On the first day, we climbed up steep slopes to visit the Residence of the Consul General of Japan in San Francisco. All the walking was totally worth it, as we saw the beautiful view of the ocean and the Golden Gate Bridge from his Residence. I would like to express my sincerest appreciation to the San Francisco Consul General for opening his Residence to us.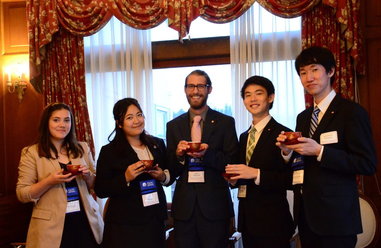 The next day, JASC held a series of academic events. The Diversity Symposium on Women's Issues and LGBTQ was particularly inspiring. We had a rare and precious opportunity to listen to the panelists' personal stories, which were truly eye-opening for me. The last event of JASC was the Reception at Hakone Gardens.
As a Japanese student studying in the U.S., I instantly felt like I was back home when I entered Hakone Gardens. We experienced traditional Japanese cultural activities such as calligraphy and putting on yukatas. Personally, I found the Nagashi-somen as especially memorable. This is a popular summer event in Japan, where somen, a kind of noodle, is sent down a bamboo tube with flowing water. You catch the flowing somen with your chopsticks and eat it. It was my first time setting up the equipment- cutting bamboo and tying them together with ropes- and I felt the genuine Japanese culture there.
Looking back, JASC was definitely an amazing experience and I am so glad that I was able to participate in it. Not only did I learn more about the U.S.-Japan relationship through the programs and hours of discussions with peers, but I made long-lasting friendships with students from both Japan and the U.S. I sincerely believe the open atmosphere of JASC, where you can share your honest feelings and opinions, allowed us to make such connections.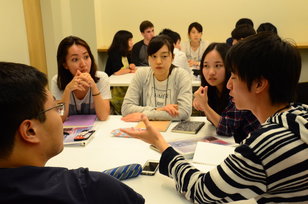 From the beginning till the end of the program, I felt as if I had known my peers before the actual conference, and it was always comfortable being in the JASC community.To be honest, I did not imagine that I could build such relationships within three weeks. However, this was a pleasant surprise. Continuing these strong relationships that I made throughout JASC is one of the fundamental reasons that I ran for the 69th Executive Committee election.
The other takeaway from JASC is the importance of self-reflection. As I interacted with amazing peers whom I respect, I also reflected upon myself a lot, from my identity as a Japanese studying in the U.S. to what kind of a person I want to be in the future. It has been three weeks since JASC ended, and I still look back to it as one of the most meaningful summers in my life.
Thank you 68th JASC, and I am excited to come back to JASC as the 69th American Executive Committee Chair. In the midst of planning for the next conference, I am hoping that the 69th delegates will have amazing experiences in Japan!