Audrey Happ, Communications & Events Associate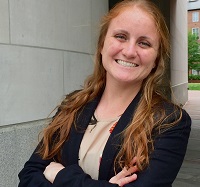 Audrey Happ is the Communications & Events Associate at International Student Conferences (ISC).
Before joining ISC, Audrey supported public programming operations and education teams at various organizations, including the Smithsonian Freer and Sackler Galleries, the National Cherry Blossom Festival, and The Walt Disney Company.
As the Communications & Events Associate, Audrey assists Executive Director Linda Butcher with the development of communications and marketing strategies for ISC and its three flagship programs: Japan-America Student Conference (JASC), Korea-America Student Conference (KASC) and the US-Japan-Korea Trilateral Forum. She also works with JASC and KASC's student leaders to develop outreach and social media plans as they prepare for their conferences.
Audrey earned her Bachelor's degree in international affairs with a concentration in Asian studies from the Elliott School of International Affairs at the George Washington University. She is currently pursuing her Master's in international security.
Audrey can be contacted at ahapp@iscdc.org